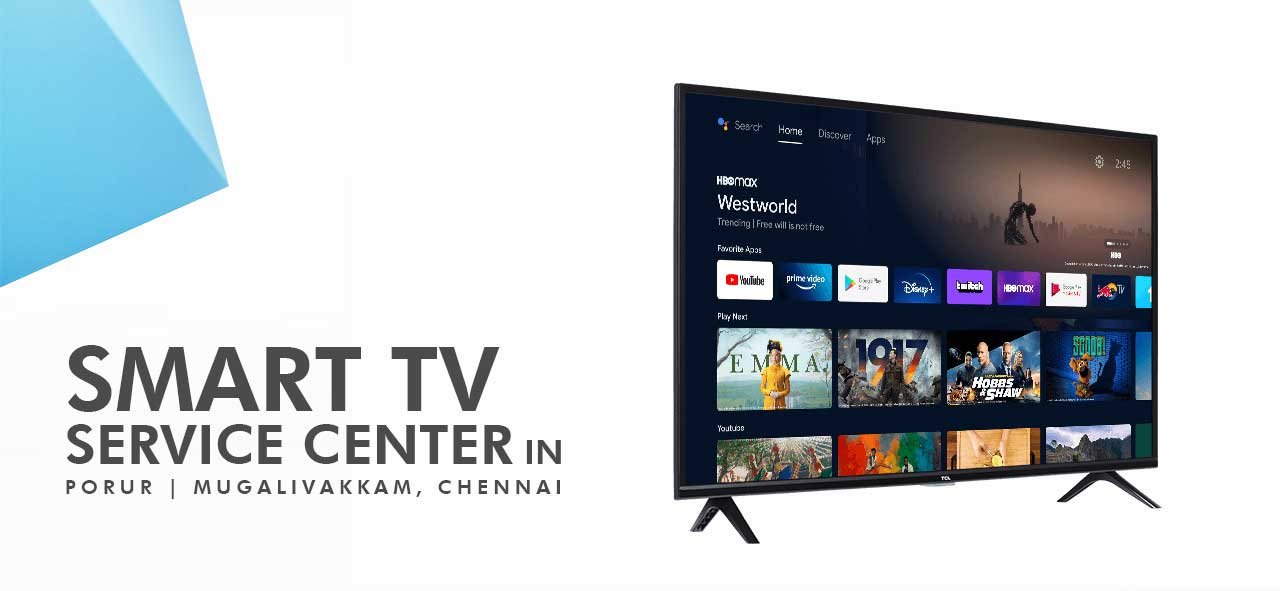 Get the best Smart TV service at an affordable price in Chennai
Smart TVs are increasing in popularity and usage all around the world globally. Being able to directly connect to the internet and Alexa has made their value increase. But with the increased usage of Smart TV, the demand for service shops targeted towards Smart TV repair and service is also increasing. That said, it is easy to understand why RV Technology in Porur and Mugalivakkam in Chennai is visited by many every day. We at RV Technology have the best technicians working on your Smart TV to make it perfectly functional and efficient in no time. By providing a service warranty of 30 days, our professionals are highly skilled and experienced at handling various types of Smart TV related faults and issues.
Our smart TV service center in Porur and Mugalivakkam is fully furnished with the latest state-of-the-art facilities to provide the service and repair to the customers. We are the authorised service center for Smart TVs of many prominent brands like Sony, Samsung, Panasonic, Onida, Micromax, LG, Intex, Haier, BPL, Philips, Mi, Videocon, Toshiba, TCL and more. Making use of the latest technology to offer distinctive services that can be provided by those with in-depth knowledge, our specialists are adept at handling any type of issue. We work with passion and dedication to provide the best Smart TV service and repair as per the needs and requirements of the customers.
Some of the common issues faced by Smart TV that we can easily fix are
TV is switched on but the screen is blank
The most common reason for the TV screen going blank is because of mismatched input connection. If the cable input is proper but the screen is still blank then you need to call in the experts. We at RV Technology have the best experts who are skilled at providing the best service related to smart TVs.
Video not matching Audio
It can never get more annoying than when your video does not match the audio, this is a problem specific to Smart TV, and we at RV technologies have the best specialists who are adept at fixing these problems to give you the best viewing experience.
Picture pixelating or breaking
If the picture on your smart Tv is pixelating, breaking up or cutting in or out then you will definitely feel bummed out and irritated with it. That is why our professionals from RV Technology properly service your TV to make sure you never experience picture breaking and pixelating ever again.
TV Screen has lines or is cracked
If your TV has lines running through it then it is a problem inherent with the screen panel and has to be replaced. We at RV Technology have the best technicians who are skilled at providing versatile services and repairs related to Smart TV.
Complete parts repair
You don't have to worry about your Smart TV anymore. Whether it has a problem with the power supply, motherboard, inverter board, display panel and more, you don't have to worry anymore, for we fix it all at the best affordable price.
Frequently Asked question
Do you provide a warranty?
Yes, we provide a service warranty for the Smart TV service and repairs we provide for a period of 1 month. We kindly ask you to keep the service invoice safe for availing the service warranty.
Do you provide TV wall mounting and installation?
Yes, apart from TV service and repair, we provide Tv wall Mounting and Installation for TVs of all models and brands.
Do you accept online payment?
Yes, we have online payment through multiple modes like credit/debit cards, net banking, UPI services and more.
Do you have an inspection charge?
If you avail the service from us, there is no separate inspection charge, however, if you are not availing our services then there will be a minimal amount of inspection charge levied.